Part of the Centre's income is spent on supporting charitable and community works in Kanchanaburi province, including
Weaving For Women Project. Daisy Dwe created Weaving For Women in 1998 with the aim of providing economic assistance to the many Karen, Mon, Burmese, Arakan, Tavoy, Shan and Karreni people who have fled the troubled areas of eastern Myanmar. Many go to Sangklaburi in Thailand where they can live in relative peace as they wait until they can safely return to their homes.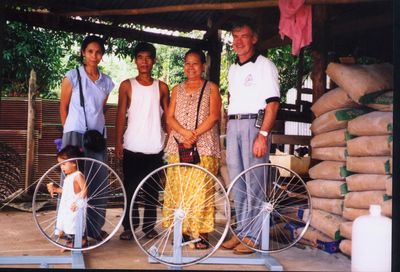 As refugees with uncertain status in a foreign country, these people have few resources available to them. One of the main goals of the Weaving For Women project is to provide vocational training and work for young women in a traditional Karen craft. The project also provides desperately needed assistance in basic food and shelter, hospital bills, school fees and acting as advocates with the local authorities.
History Education Programme: Government School groups enter at reduced cost if prior arrangements are made. The Centre can supply school group visitors with a questionnaire for them to fill out as part of their education experience. School administrators and teachers should contact us at least one week before the arrival date. Please e-mail us at admin@tbrconline.com